News
A Collection of Excellence: 227 artworks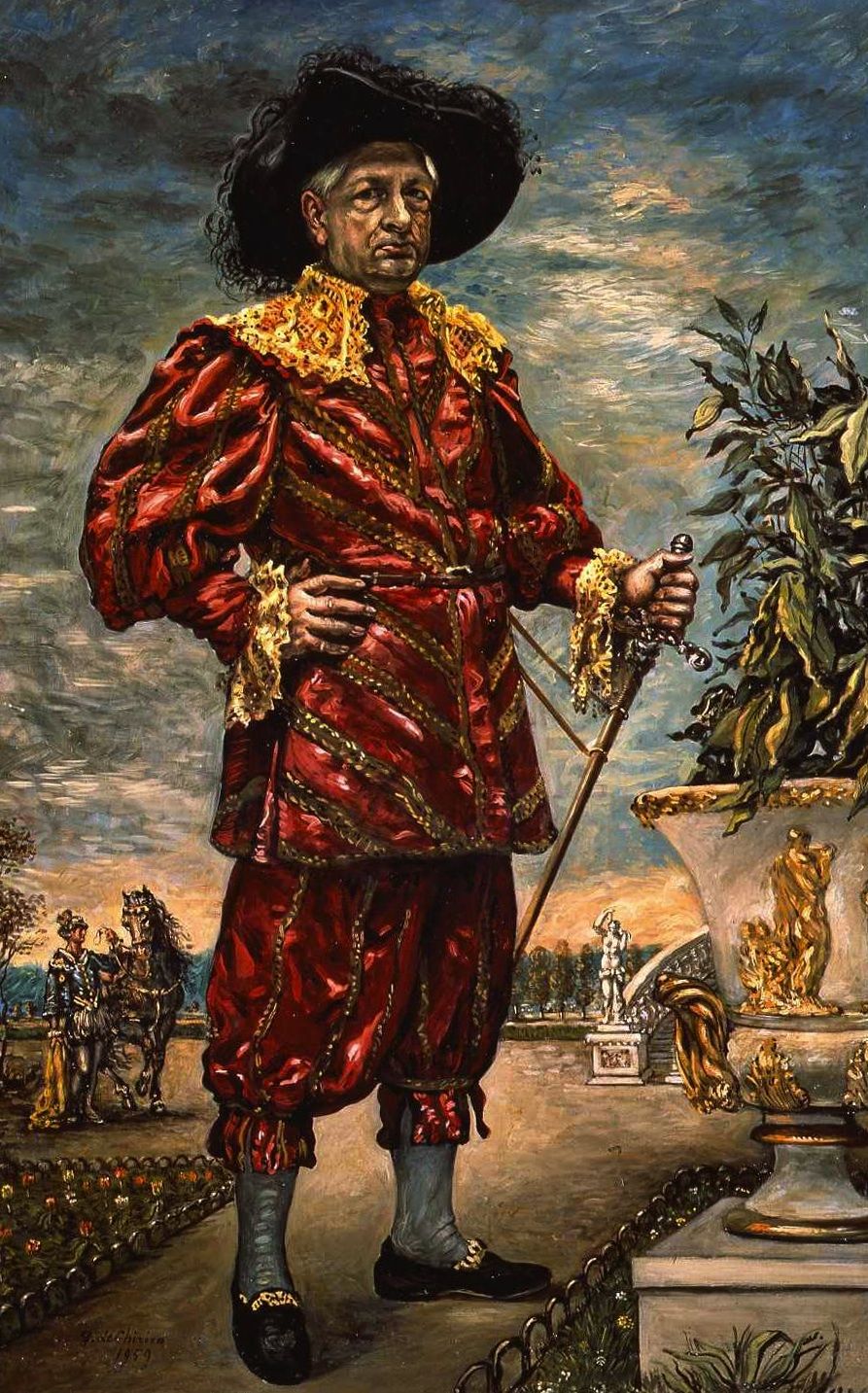 The Italian Ministry of Heritage and Culture and Tourism, in accord with Fondazione Giorgio e Isa de Chirico, has instituted a safeguard for 227 artworks in the Foundation's collection in recognition of the important artistic and historical significance they hold within Italy's cultural patrimony. Dating from 1926 to 1975, the group of works comprises of paintings, sculptures and works on paper, and includes masterpieces such as Portrait of Isa in Pink and Black Dress (1934), Bathers (with Red Drape in the Landscape) (1945) and Self-portrait in the Park in 17th Century Costume (1959). A number of works from the artist's Neometaphysical period such as Orpheus the Tired Troubadour (1970), The Meditator (1971) and The Prodigal Son (1975), complete the collection. The administrative decree issued by the Regional Director for Cultural and Environmental Heritage of Lazio, dated 22 January 2015, is thus motivated: "the artworks the Foundation has requested to be safeguarded constitute a corpus that is extremely complete and representative of Giorgio de Chirico's artistic research, a compendium of exceptional historical interest with regard to the styles and techniques employed that covers almost the entirety of the artist's long career".
The Foundation, which will celebrate 30 years of activity in 2016, has not only kept its collection intact, but has even succeeded in strengthening it by means of specially-chosen acquisitions over the course of time. The Ministry's institution of a safeguard (which also includes works acquired by the Foundation) acts as an additional step towards strengthening the Foundation's collection through the official recognition of this group 227 artworks as a unique and extraordinary corpus within the artist's oeuvre. Together with the paintings, works on paper and sculptures, three sets of lithographic works have been included: Mythologie by Jean Cocteau (Editions des Quatres Chemins, 1934), Apocalisse (Edizioni della Chimera, 1941) and Apocalisse edited by Raffaele Carrieri (Carlo Bestetti Editore d'Arte, 1977).
In line with the Foundation's intention, this compendium of artworks, protected by Ministry safeguard, could constitute the basis for establishing a museum dedicated to Giorgio de Chirico's art. The Foundation is working toward a dynamic and comprehensive exhibition-oriented collaboration between Rome's Galleria Nazionale di Arte Moderna e Contemporanea – which, thanks to Isabella Far's 1987 donation conserves works from the artist's early production of the 1910s and 1920s (periods that the Foundation's own collection lacks), such as, Portrait of the Artist's Mother (1911), Lucretia (1921), The Archaeologists (1927) and the famous Self-portrait in the Paris Studio (1934),  the House Museum and an additional museum space in Rome. A synergetic interaction of this kind could provide an extraordinary stage for the promotion of knowledge on Giorgio de Chirico's art in Rome.