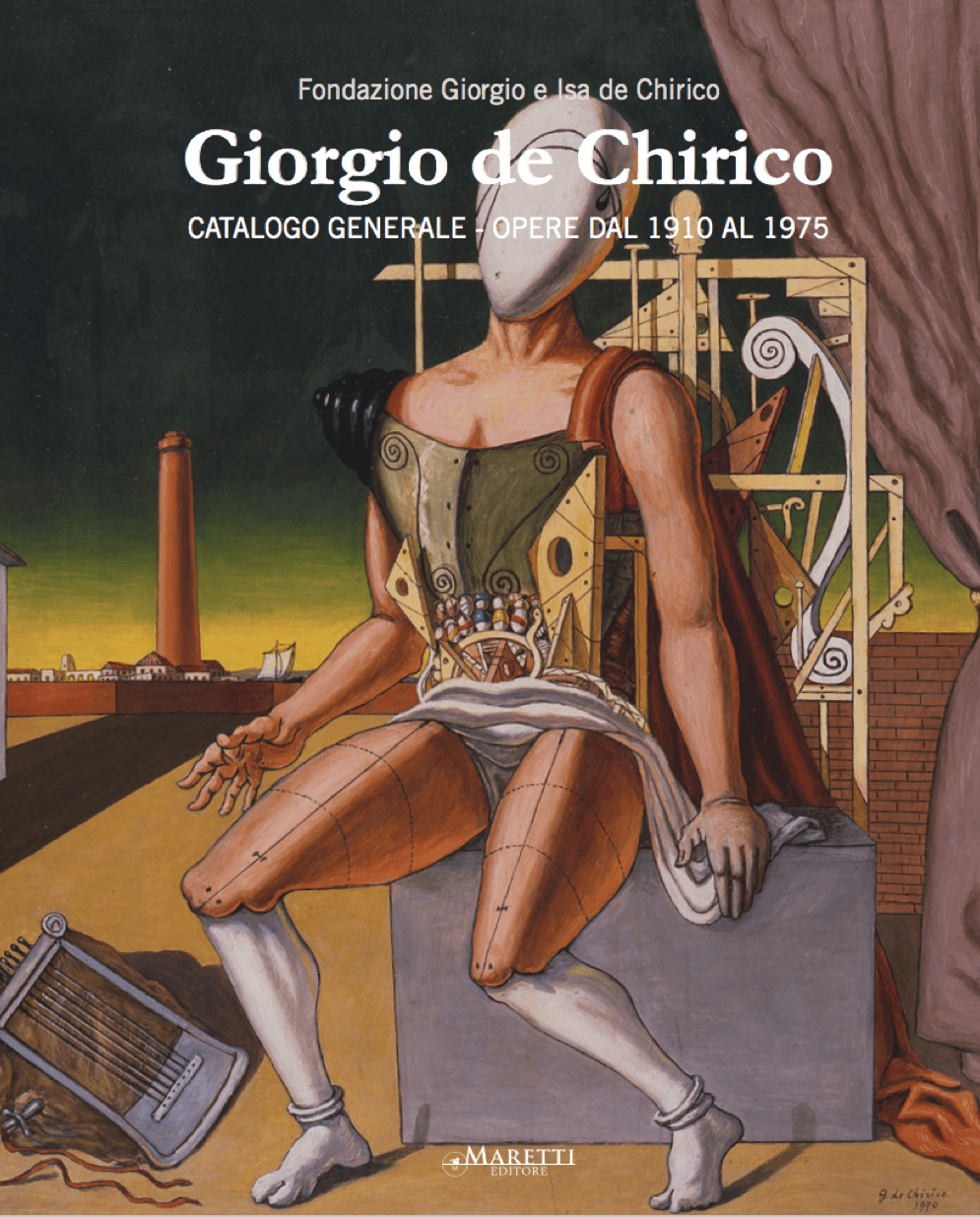 Giorgio de Chirico – Catalogue of Works vol. 2 (1910-1975)
Giorgio de Chirico
Catalogue of Works (1910-1975)
Maretti Editore – Vol. 2/2015
The 478 paintings and works on paper (1910-1975) presented in this second volume offer enthusiasts of Giorgio de Chirico's art a further instrument for in-depth study. In testimony to de Chirico's artistic versatility, this new compilation presents a number of miniatures painted on ivory and jewellery designed by de Chirico from the 1940s onwards.
The present volume has been compiled with the same rigorous selection process that saw the realisation of the first edition and includes artwork registered over the course of the years in the Foundation's archive of authentic works through its activity dedicated to the research, study and cataloguing of artwork by Giorgio de Chirico considered authentic.
The works published do not appear in Claudio Bruni Sakraischik's Catalogo generale of Giorgio de Chirico's art (Electa, Milan 1971-1987).
In his essay published in the catalogue, Fabio Benzi remarks: "With the addition of the present volume, de Chirico's catalogue now comprises a body of work, which, if not yet complete, is well along the road to completion. Documented with liber veritatis, this ingenious yet conceptually difficult journey can only be revealed in its true greatness through the full expression of its numerous accents."
Similar to the first volume (2014), the present selection of works includes many little-known or completely unknown artworks that as a whole contribute substantially to knowledge on de Chirico's oeuvre.
The 520-page publication contains an essay by Fabio Benzi, a foreword by Paolo Picozza, President of Fondazione Giorgio e Isa de Chirico, a text by Giorgio de Chirico, The Painter's Craft (1933), a brief biography on the artist and a summary of the Foundation's activity.
A bibliography with references from the principal monographs, exhibition catalogues, periodicals and auction house catalogues for the works published is included in the form of a separate dossier, which also includes the republication of the first volume's bibliography with updated references.
Maretti Editore, Falciano (RSM)
Language: Italian, English
Artworks: n.451-928
Pages: 520
ISBN: 978-88-98855-59-9